Cello Ensembles
The Canolfan Gerdd William Mathias Cello Ensembles are directed by professional Cellist and tutor Nicki Pearce. They have been running successfully for a number of years and cater for most levels of students.
The groups generally meet once a month on either a Saturday or a Sunday at Galeri Caernarfon.
There is a Junior Ensemble (grades 1-4) and a Senior Ensemble (grades 5+). Both groups have a mixture of adults and young Cellists.
The Cello Ensembles aim to perform at concerts or events three times a year. Other than doing your average concert, they have gone busking and played on the summit of Snowdon!
As well as performance opportunities, the members have benefited in receiving tuition in Master Classes by accomplished Cellist Steffan Morris and took part in a workshop held by Anup Biswas; Indian Cellist and founder of the Mathieson Music School, Kolkata.
Nicki endeavours to give the groups a wide range of styles of music from Baroque and Classical through to arrangements of popular tunes and jazz. Nicki also composes and arranges music herself specifically for the ensembles. Students are given a great opportunity to develop strong skills in group playing and furthering their technique.
Please contact us for further information or if you wish to become a member of the Cello Ensemble.
Trios and Quartets
String Ensembles at Canolfan Gerdd William Mathias meet on a weekly basis for ½ or ¾ hour sessions. Currently we have . 4 ensembles – Junior and Senior Piano Trio and Junior and Senior String Quartet
All Ensembles perform regularly at Canolfan Gerdd William Mathias concerts and in the wider community at Eisteddfodau and events. Past performances have included a senior string quartet working with Catrin Finch, a Baroque Trio Sonata group working with Iwan Llewelyn-Jones, and an expanded string ensemble working with the Mavron string quartet from Cardiff on the Mendelssohn Octet and Bach's Brandenburg Concerto no 3. Performance venues have included the North Wales International Music Festival at St Asaph and Neuadd John Ambrose (Rhuthin) to promote the new branch of Canolfan Gerdd in Denbigh.
All of the string ensembles above are tutored by Nicki Pearce. 
Telynau Clwyd
Telynau Clwyd harp ensemble was established in October 2015 following a successful taster session during an open day at CGWM Denbigh some months before.
Morwen Blythin and Dylan Cernyw are the group leaders, and under their leadership the group have performed in concerts at St Mary's Church in Denbigh (2016), North Wales International Music Festival, as well as the Music Centre's 'Llwyfan Cerdd' student concerts.
The group is suitable for school age children and, and we have two groups which come together once a month in Denbigh:
Junior Telynau Clwyd: For harpists up to grade 3 standard.
Senior Telynau Clwyd: For harpists grade 3 standard and above.
We are very grateful to Telynau Tandderwen Harps for supporting this project.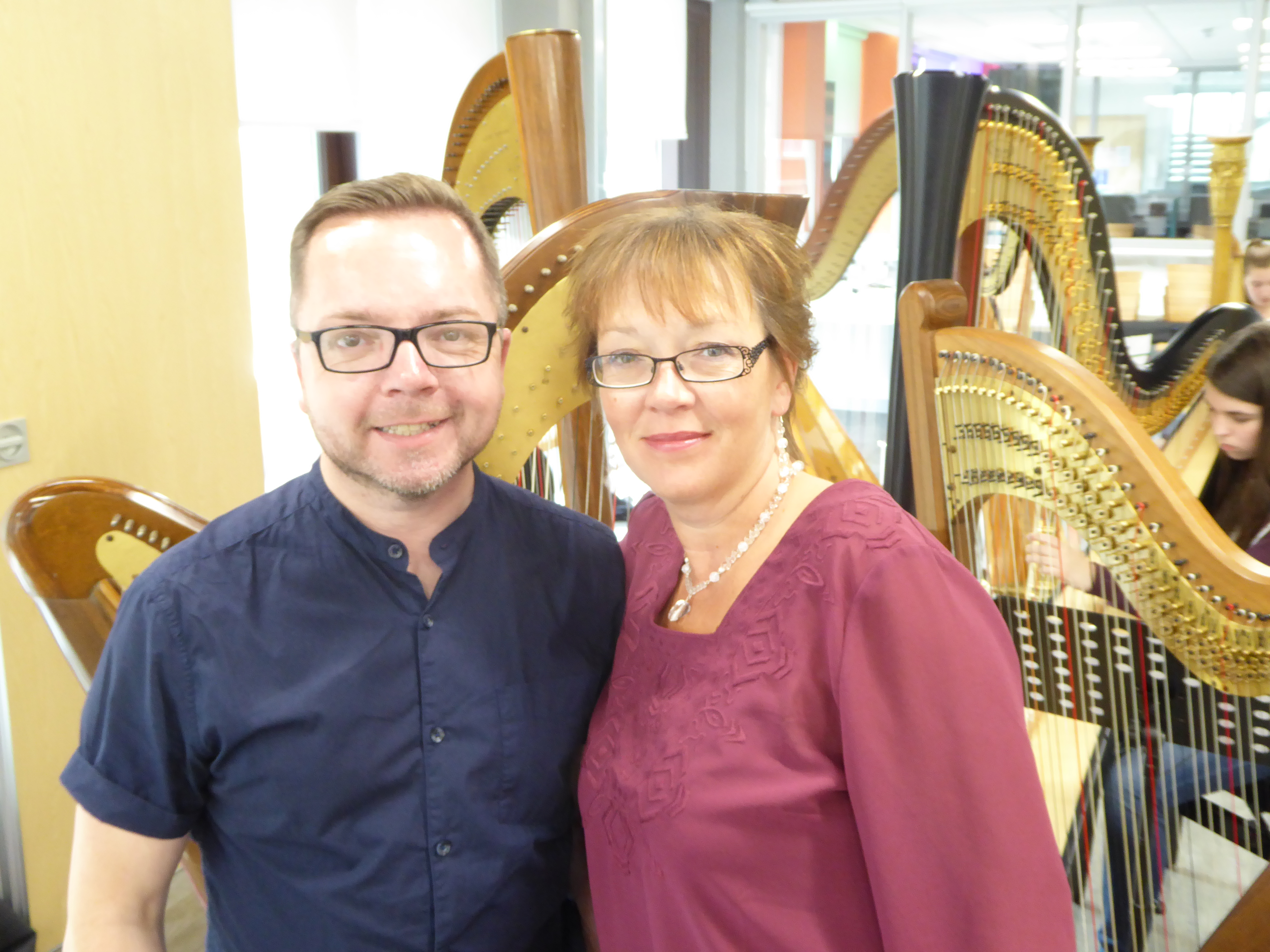 Telynau Clwyd Tutors: Dylan Cernyw & Morwen Blythin

Junior Telynau Clwyd (Up to Grade 3)
March – July 2020 Series
Suitable for school children up to grade 3 standard. Dates of the series to be confirmed.
The usual rehearsals take place at HWB Dinbych 10:30am – 12:00pm. You must register for the series beforehand.
Senior Telynau Clwyd (Grade 3+)
October 2019 – March 2020 Series
Dates of the next series to be confirmed.
The usual rehearsals are held between 11:00 – 1:15pm at Hwb Dinbych.