Online Lessons with Elinor Bennett
Would you like to improve and refresh your harp playing? Would you like to learn new pieces and learn from an expert who has many years' experience of teaching?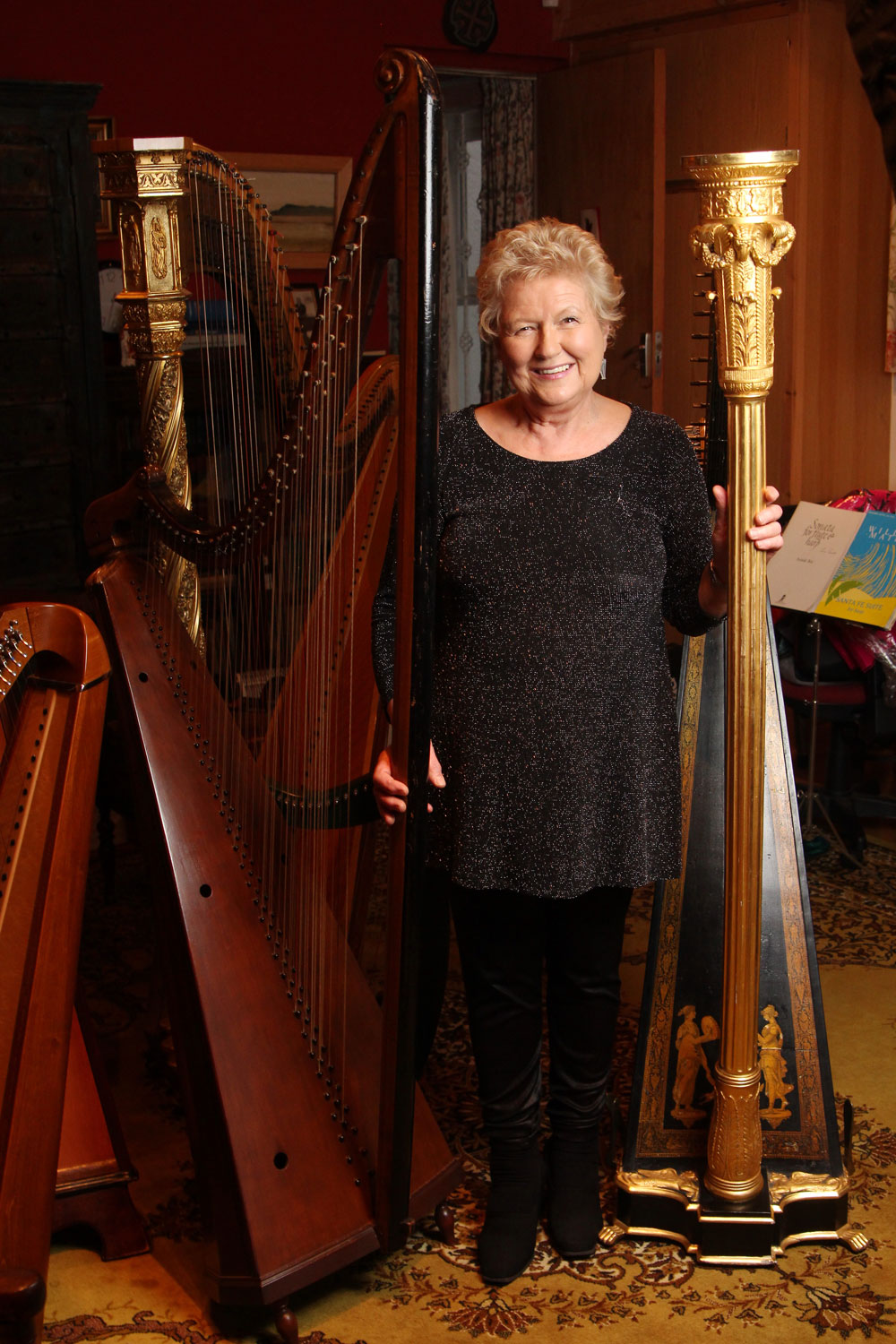 Biography
ELINOR BENNETT is internationally acclaimed as concert harpist and respected harp teacher. She first learnt to play the harp with the late Alwena Roberts in Wales, and then studied at the Royal Academy of Music, London, with Osian Ellis after completing a degree in Law at Aberystwyth University. She also received tuition form other great harp teachers – Tina Bonifacio, Gwendolen Mason in London, and Jacqueline Borot in Paris. Elinor played with all major British orchestras, and gave many solo performances in Britain, Europe, USA, Russia, Australia, Japan, Thailand and New Zealand. Elinor has made many recordings, ranging from 20th Century concert harp classics to Welsh traditional music on the Triple Harp.
Many leading composers have written for her, and she directed harp studies at Bangor University for over thirty years. She was awarded OBE for services to music and Honorary Fellowships from the Aberystwyth, Bangor, Cardiff, Universities, Fellowships from Royal Academy of Music and the Royal Welsh College of Music and Drama, and an Honorary Doctorate in Music from the University of Wales. Many of her ex-students are internationally acclaimed artists, including SIoned Williams and Catrin Finch.
Elinor Bennett has held harp courses in Bangor since 1978 and she has directed the prestigious Wales International Harp Festival in Caernarfon since 2008. With a lifetime of experience to offer, she is full of enthusiasm and energy to pass on her understanding of the harp and its music, and share her love of the instrument with others.
To learn more about Elinor visit www.elinorbennettharp.com
What Elinor can offer
Elinor Bennett is offering individual harp tuition online (via Skype or Zoom) organised by Canolfan Gerdd William Mathias.
Harpists from anywhere in the world are welcome to apply, but the language of tuition will be either Welsh or English.
A course of lessons will be planned for the individual student and one free consultation lesson (30 minutes) will be offered to discuss the aims and contents of the lessons and decide upon the most appropriate way forward.
Tuition and advice on technical matters, (sound production, relaxation, and articulation)
Studies in the classical concert harp repertoire (for example standard UK examination syllabus ABRSM, Trinity etc)
Triple harp and its special techniques, tuning and music;
Traditional music of Wales including Penillion Singing and Folk Songs with harp accompaniment.
These lessons are not appropriate for absolute beginners because of the technical demands of the instrument.
Harpists under 18 year old must be supervised by an adult during the lesson.
Fee for online lessons: £55 per hour (Fee for half an hour: £30).
Tuition is available on three styles of harps: Concert (pedal) harp, Triple harp, and Celtic (lever) harp.
If you have any questions, you're welcome to call CGWM on (+44) 01286 685 230 or email gwydion@cgwm.org.uk