Camau Cerdd (Steps in Music)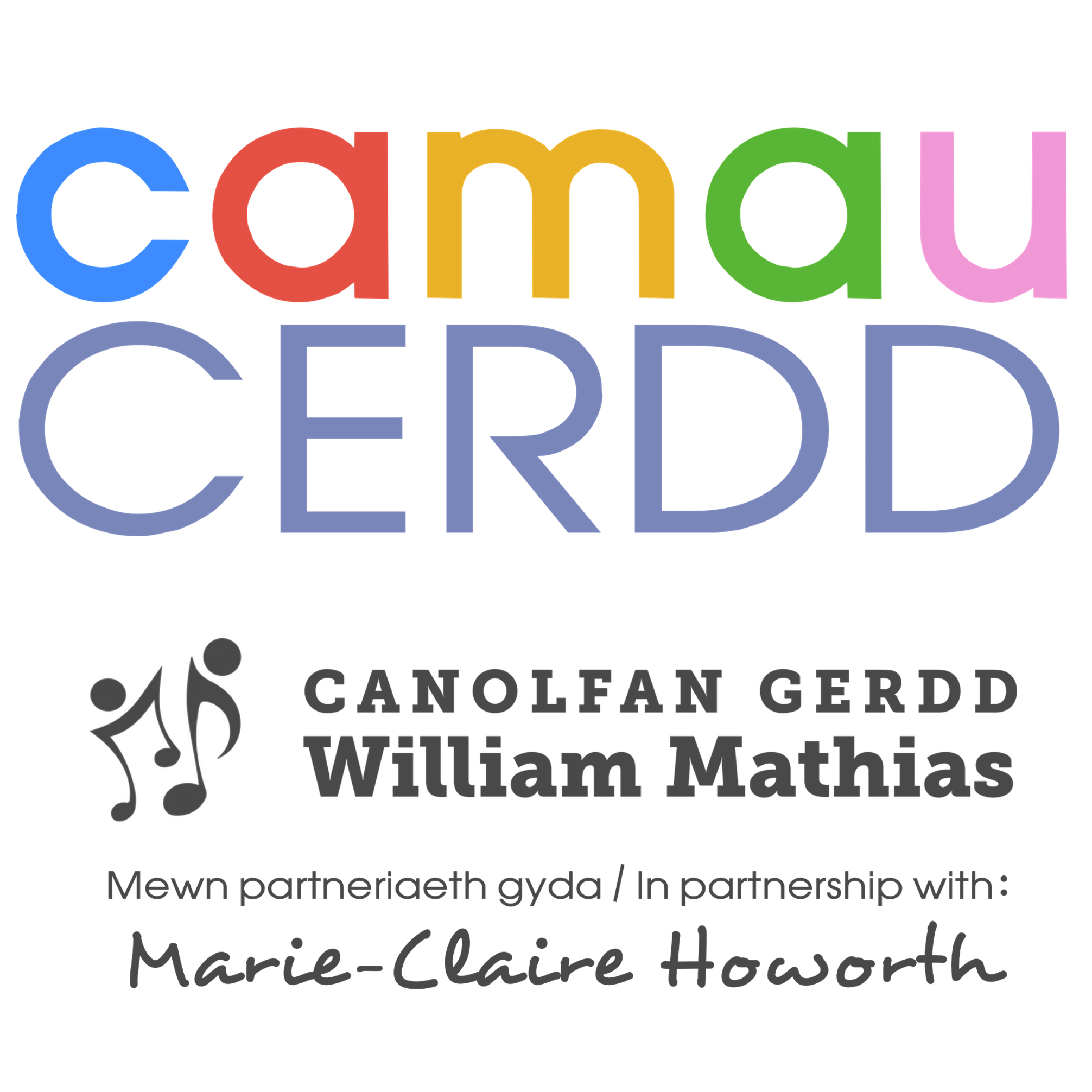 Camau Cerdd (Steps in Music) is a project developed in collaboration between Canolfan Gerdd William Mathias and musician Marie-Claire Howorth.
Camau Cerdd exceeds the requirements for the Foundation Phase in schools and nurseries. In three carefully planned class structures entitled Shuffle Time Music, First Steps in Music and Next Steps in Music, Camau Cerdd fully embraces the following concept:
An education in music has the potential to empower the body and brain: develop literacy and communication; emotional intelligence; numeracy; coordination; memory and social skills.
Cropian Cerdd (Shuffle Time Music)
Shuffle Time Music is valuable time spent together with babies aged between 6 and 15 months. 
The Camau Cerdd leader works alongside the parent/guardian using a multisensory approach to explore musical, visual and physical communication. The sense of wellbeing for both carer and baby is at the heart of these sessions. Time to bond with the new addition to the family and time for the carer to adapt to what may be a new social situation.
Shuffle Time Music offers the opportunity to introduce music by providing support and ideas which can be used at home making your week between classes even more creative!
Camau Cyntaf (First Steps in Music)
As your child grows so does his/ her curiosity! Our stimulating music classes for 15 month – 3 year olds (inc. 3 years old) and their parent/guardian will delight your little explorer as we offer our more mobile crew of 'tiny tots' opportunities to discover their new found musical world. While continuing to work with parents/guardians the leader makes use of a variety of musical instruments, sol-fa, songs, stories and rhythm games. Imagination and role play is just starting to develop as is a sense of self-identity within your child's social circle. We enjoy going on the journey with you and your child as you go through the developmental milestones at this age.
One of the precious moments of this age is when your child begins to talk and sing, this is an ideal time to build on memory and language skills. Songs offer a fantastic way to do this. It doesn't matter if you are not confident with your own vocal abilities, what counts is the bond created between you and your child as you share in the interactive experience of singing together. 
Camau Nesaf (Next Steps in Music)
Fun filled classes for 4-7 year olds.
A great foundation for instrumental lessons. Children continue to explore important elements of music through games. They will have the freedom to learn through role play and gain confidence to express themselves. Opportunities to play recorder, fife, piano, keyboard as well as a host of percussion instruments will be plentiful.  Singing folk songs plus the use of sol-fa in addition to moving both expressively and rhythmically to music are key activities in this stage. This is an excellent way to encourage and develop a deeper awareness of the music within.
In general we follow themes such as The Orchestra, Music from around the World, The Planets, Film Music, Conducting and many more throughout the year. During the sessions the children learn how to read and write music as well as build aural skills in an imaginative fun filled way.  
Continuing to Step in Music
It has also been possible to form smaller groups where the children progress tackling grades on the recorder, prep test piano and more formal music theory.
In addition to this they are welcome to share their experience of the classes by participating in the Llwyfan Cerdd termly informal concerts run by the Canolfan, where there is also the chance to see older children perform on a variety of instruments.